Rhythm & Blues & Pop 
American Pie (Don McLean)
Boogie Shoes (KC & the Sunshine Band)
Brandy (Looking Glass)
My Girl (The Temptations)
Signed, Sealed, Delivered (Stevie Wonder)
Secret Agent Man
Domino (Van Morrison)
Moondance (Van Morrison)
Tupelo Honey (Van Morrison)
Have I Told You Lately (Van Morrison)
Jackie Wilson Said (Van Morrison)
Brown Eyed Girl (Van Morrison)
Something (Beatles)
Ticket to Ride (Beatles)
Can't Buy Me Love (Beatles)
The Letter (Joe Cocker)
I Got You -I Feel Good (James Brown),
On An Empty Road (Mr. Lucky)
Mustang Sally & Soul Man (The Blues Brothers)
Smackwater Jack (Carole King),
Kept Man (Mr. Lucky)
300 Lbs of Heavenly Joy (Jump Blues Standard)
Peg (Steely Dan)
Tightrope (Stevie Ray Vaughn
Wonderful Tonight (Eric Clapton)
Doctor My Eyes (Jackson Browne)
Hawaii Five-O (They Ventures)
I Just Want to Stop (Gino Vannelli)
I Wish (Stevie Wonder)
You're the Best Thing that Ever Happened to Me (Gladys Knight)
Colour My World (Chicago)
Desperado (Eagles)
Forever Man (Eric Clapton)
Get Ready (Temptations)
I'm a Believer (The Monkees)
Jazz Police (Leonard Cohen)
Just the Way You Are (Billy Joel)
Linus & Lucy (Peanuts Song)
Sweet Caroline (Neil Diamond)
Love You More Today (Spiral Staircase)
That's the Way (KC & the Sunshine Band)
Lido Shuffle (Boz Skaggs)
How Sweet it Is (James Taylor)
You've Got a Friend (James Taylor)
Crazy Love (Van Morrison)
Someone Like You (Van Morrison)
Vehicle (Ides of March)
Will It Go 'Round In Circles (Billy Preston)
Superstition (Stevie Wonder)
Pick Up The Pieces (Average White Band)
Midnight Hour (Wilson Picket)
Knock On Wood (Wilson Picket)
Sometimes That's Just The Way It Is (Mr. Lucky)
Got To Get You Into My Life (Earth Wind & Fire)
September (Earth Wind & Fire)
I Want You Back (Jackson 5)
Young Blood (Coasters)
Takin' Care of Business (BTO)
Don't Call Us, We'll Call You (Sugarloaf)
Here, There & Everywhere (The Beatles)
Hard-Driving Modern CNN Era Swing with a Vengeance: 
Go Daddy-O,
Let's Live It Up,
Zoot Suit Riot,
Hot Java Jump,
King of Swing,
Rock This Town,
We Are In Love
I Could Write A Book
Whose Side Are You On
You & Me & the Bottle Makes 3
Boogie Bumper
Mr. Pinstripe Suit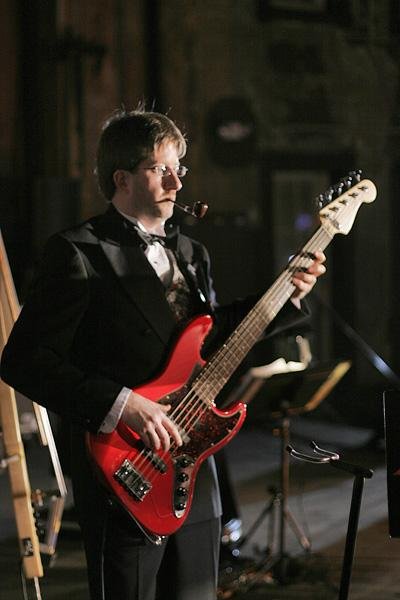 Traditional American Pre-Watergate Swing Redone in Our Uniquely Tangy Sauce: 
Mack The Knife
You're Nobody Til Somebody Loves You
A Sentimental Journey
It Had To Be You
When I Fall in Love, Jump
Jive n' Wail
If I Only Had A Brain
How Long Must I Wait For You
What a Wonderful World
In the Mood
Route 66
At Last
Unforgettable
L-O-V-E
Take the "A" Train
Beyond The Sea
Brown Derby Jump
Big 10 Inch
S&M
Almost Like Being In
New York, New York
Luck Be a Lady
That Old Black Magic
Let's Face the Music & Dance
The Best is Yet to Come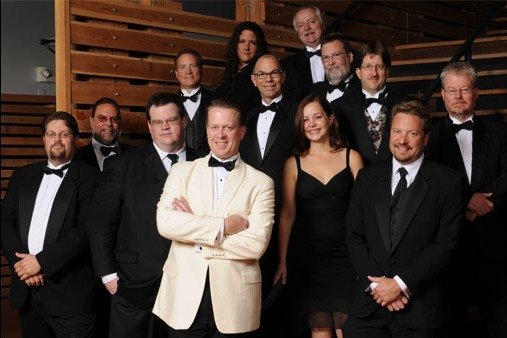 Summer Wind
The Rainbow Connection
Fly Me To The Moon
Your Cash Ain't Nothin' But Trash
Lucky So & So
Sing, Sing, Sing
Just A Gigolo
All Right, Okay, You Win
The Way You Look Tonight
Since I Fell For You
Is You Is
Jackpot
Someone to Watch Over Me
Surrey with the Fringe on Top
Minnie the Moocher
Boogie Woogie Bugle Boy
Dream a Little Dream
Knock Me a Kiss
My Romance
Rhapsody in Bloom
Latin, Ballroom and "I didn't know people still dance like that!": 
25 or 6 to 4 (Samba, by Chicago),
Night & Day (Latin)
Margaritaville (Latin, Jimmy Buffet)
The More I See You (Latin)
Hell (Latin, Squirrel Nut Zippers)
Cinderella's Waltz (Rogers & Hammerstein)
The First Time That You Spoke My Name (A waltz by Mr. Lucky)
Moon River (a waltz)
The Blue Tango, Memories Are Made of This (Latin)
Mambo Swing
A Very Brady Polka
Angels Among Us
Have You Ever Really Loved a Woman
It's Too Late
Some Enchanted Evening
Save the Last Dance For Me (Michael Buble)
Mr. Lucky's Greatest Hits: 
No Way (a/k/a "Where Will Your Heart Be New Year's Eve")
Who Knows (Where Tonight Will Lead)
42 Guys In Suits
You're Always There
Beautiful Ladies In Fancy Cars
More Than Love
Thinner By Midnight
You Don't Have To Go Home (But You Can't Stay Here)
Big Socks
I've Been Here Before
Swingin' From The Chandelier
Heaven
and…
For the Mr. Lucky Fan Club Member In Training: Who Are The Players In Your Neighborhood (Sesame Street), Supercalifragilisticixpialidocious.
We also carry a "fake book" with more than 500 songs, arrangements for smaller combo playing and seasonal favorites. We are happy to prepare music special to the cultural background of any event, and are always pleased to do an arrangement of the couple's favorite song for their first dance. This list is always growing. What may we add for you?